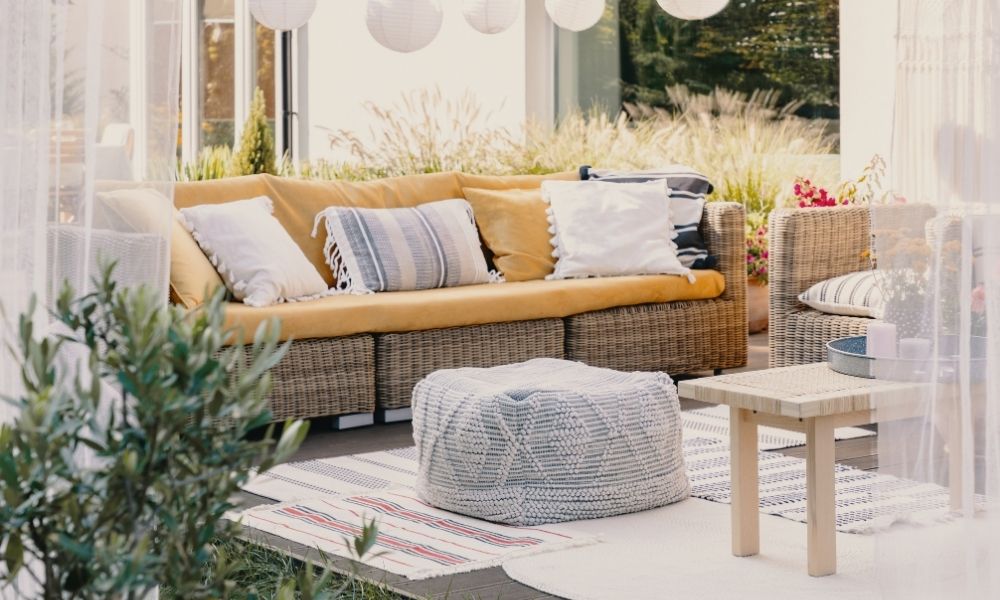 One of the most prominent modern interior design trends is a return to nature, with a color palette similar to the one you can find in the great outdoors. But for those looking to take this idea to the next level, there is a growing number of homeowners creating permanent outdoor living spaces in their backyards.
These open-air sanctuaries offer a relaxing place to spend time away from the world or together with your closest family and friends. The best way to maximize your enjoyment of the new outdoor room is by creating a plan the same way you would for every other room in your home. This plan should incorporate each of these strategies for creating the perfect outdoor living space.
Purpose and Layout
The first thing you want to decide after settling on turning your backyard into a second living room is what you want to do with the space. Just like the rooms inside your home, your outdoor space should have a specific purpose, and everything should aim toward reaching that ideal. A few of the most common reasons people want an exposed living room include hosting parties, having a private garden escape, and a private reading nook. It can also be a lifestyle space for children or a poolside retreat.
No matter what the reason is, be sure to create a layout with accurate measurements. This simple blueprint can make each of your next steps much more straightforward. Remember that everything you include should have a specific function or purpose; otherwise, it is just there to occupy valuable space.
Selective Surroundings
With the space's purpose in mind, it is vital to be selective of the items that will eventually comprise the area. First, list out everything you will need for the project to be successful. This includes furniture, lighting, décor, and everything else you want to make up your living space. After making this list, start looking for items that fit these descriptions and compare them to what you already own.
For many, privacy is a concern, even in their backyard. Many families will use all fences to block off the entire space. Still, another option to consider is using plants to provide a visual block between yourself and any prying eyes. Heavy-duty outdoor curtains are also something to consider. Try to use the boundaries that already exist, like the walls of the house and other pieces of nature, to complete your look.
Avoid Wind Disruption
As much as the weather will be a factor in how much time you can spend outdoors, the wind will have one of the most significant impacts. Putting up walls or barriers can create a wind tunnel in your backyard, disrupting your festivities. Consider the wind patterns at different times of the day and how they can play a role in ruining everything you have planned. Anticipating possible wind disruptions is especially important for anybody who wants to use their backyard for grilling and hosting bonfires.
Comfortable Furniture
Unlike the plastic folding chairs and wooden picnic tables of old, many modern furniture companies offer a selection of high-quality, comfortable outdoor furniture. Incorporate seating similar to how you would for your indoor living room. This can include outdoor chairs and sofas made from unique materials that don't become ruined in water.
Try including the other living room trappings to help improve the utility of your backyard oasis. Including accessories like side tables, ottomans, and throw pillows help tie the area together, while also offering many conveniences typically reserved for the time you spend indoors. Outdoor dining sets are also popular, offering a place to enjoy some fresh air even while eating.
Food and Drinks
One of the decisions you will have to make as part of determining the function of your backyard living space is about the service of food and drinks. Many outdoor spaces incorporate the grill in some way, allowing the person preparing the food to remain engaged with guests.
Some homeowners who have the available area and resources even include an entire outdoor kitchen with a miniature refrigerator, stovetop, and sink. Outdoor drink and food options are also popular for backyard swimming pools because they prevent the floors from being soaked with water anytime somebody gets hungry.
Provide Shade
One of the most important strategies for creating the perfect outdoor living space is making sure there is enough shade for everybody. This is where backyard umbrellas with movable bases can save the day. But you can also use the direction you face the furniture to provide shade and keep others from staring into the sun. If your living space is not near the home, trees and other barriers will create natural shadows to help keep you from being impacted by the sun's rays.
Include Lights
One of the worst ways to end a party or gathering is for the sun to set, leaving little-to-no light to see your guests. This exact situation is what makes including lights in your design so important. In some situations, you can rely on fire pits, bonfires, or floodlighting to work. Other times call for a more intimate touch, like twinkle lighting. No matter what direction you choose to go with the lighting, be sure it takes bulbs that complement the mood you are trying to set.
Incorporate Activities
Finally, be sure to include activities in the areas around the outdoor living space. Typical examples for families with children include a basketball hoop, playground equipment, and swimming pools. What makes these activities great is that they allow the kids to run around while the adults can lounge and visit. Lawn games such as horseshoes and Cornhole are also popular, offering you and your guests the opportunity at some friendly competition. Depending upon the home, some will even include televisions, allowing you to remain connected to the world while relaxing in your own private corner of it.
Whether looking to design your ideal outdoor oasis or sprucing up the furniture inside your home with some stately living room upgrades, Sofas & Sectionals is the place to look. Our site makes buying a sectional sofa online easy and hassle-free.