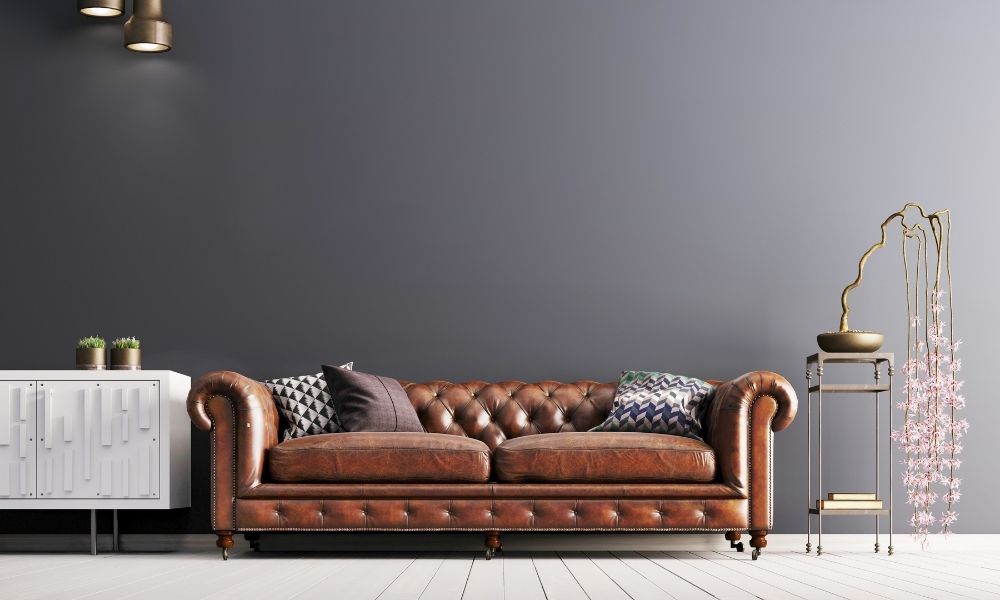 There are few bigger ways to make a statement with a piece of living room furniture than with the addition of a new leather sofa. This is because it becomes the immediate centerpiece of whatever room you place it in.
Even still, there are many important factors to consider when buying a leather sofa. Things like the size of the room, how the piece will be used, and the dimensions of the furniture are all very important when deciding on a couch. After these decisions have been made, you can then decide on the color of the piece. Here is a guide for the best colors for leather sofas to help you choose a color best suited for your interior.
Colors
Many furniture buyers are hesitant to consider leather furniture over the concern that it won't be available in the color that they want. They assume that the only colors are black or brown and that their only option is faux leather if that is the look that they want. However, this isn't true. Leather sofas are available in a variety of different colors to fit whatever design scheme you have in mind.
Black
It's easy to start any discussion on the color of leather furniture with black due to how ubiquitous the combination has become. Black is such a classic for many reasons, such as its ability to complement almost every design style. It looks just as good in a farmhouse design as a contemporary one. The color also adds to the boldness of the statement of leather. Black is also good at hiding stains and most pet hair. It also goes well with many color schemes and is very easy to decorate around. Black is also seen as much more serious and formal, so consider implementing brighter colors throughout the room to avoid creating a color-void.
Brown
The other color that has become synonymous with leather sofas is brown. This is because there are several shades that brown is available in, offering many new design solutions. One available shade is dark brown. This is often selected to set a serious tone and must be planned around to allow for adequate light. Warm brown is also a shade option and looks good in many contemporary environments. Saddle brown is often associated with mountainside log cabins and is lighter than the previous two variations, with just a hint of red.
Beige
Beige is a comfortable color that sits somewhere between white and brown on the color spectrum. It offers a traditional look that will never go out of style. Beige is commonly used in beach homes to complement the more earthy tones found in them. Beige is also frequently found in Scandinavian-style homes and is part of many contemporary designs as well.
One of the biggest worries when dealing with beige is that damage and stains are easier to see, especially as the color gets lighter. There are many cleaning products on the market to help fix or clean most of the damage that an average family could cause, so it is a good idea to keep some with the rest of your cleaning supplies.
Gray
A favorite color for many contemporary design philosophies is gray. This goes beyond leather sofas and includes upholstery for other furniture, wall paint, and flooring. A gray genuine leather sectional sofa goes well with almost everything, making décor accents easier to find and allowing you to consider a greater variety of design options.
Grays come in many different shades, each offering a different use of the color's versatility. Charcoal gray is good for creating a rich, dark room that doesn't rely on browns and isn't as extreme as black. Slate gray is a bit lighter than charcoal and has a slight bluish tint and mixes with whites, blacks, grays, and blues.
White
White is a color that radiates elegance and sophistication. It's the color of luxury and is often associated with beach-front mansions and penthouse apartments. White has the benefit of going with everything, including most traditional and contemporary styles. However, white does show stains and damage much easier, making frequent cleaning a must. Subtle color variations like cream and vanilla both have a yellowish hue. They also both work well with neutral color palettes, allowing the furniture to adapt with the times, along with the accent pieces.
How To Choose
When selecting the right leather sofa, there are many things that you must consider. A major factor is the color of the room in which the couch will be in. You must also consider whether you want your new leather sofa to match with the other furniture and accent pieces that you already own, or if you want to start with a fresh design. If you do want to start again, consider choosing a neutral color sofa to allow things to be matched to it easier. If the room has a large amount of natural light from windows, consider how the sofa will match with the nature that surrounds your home each season. Finally, consider your preferences when choosing the best color for your leather sofa.
Leather Furniture Care
It's important to talk about furniture care when buying anything leather. You should quickly clean any stains and pet hair as you find them, as this can break down the furniture. You should also apply leather care products as directed by the manufacturer to keep your sofa looking and feeling its best. Be cautious about allowing pets on the leather because their claws can quickly puncture and ruin the furniture permanently.
Exposure to direct sunlight can warp the color of the leather over time, so be cautious about where in the room you put your furniture. Similarly, leaving the furniture near an air conditioning unit or radiator can dry out the leather.
Sofas and Sectionals offers more than our namesakes, including sleepers, recliners, and all other manners of seating. We're here to help you find the perfect piece of furniture for your home, regardless of the material. For the best place to shop for furniture online, navigate to the experts at Sofas and Sectionals today.